November 29, 2022
Cheesy Chicken Kievs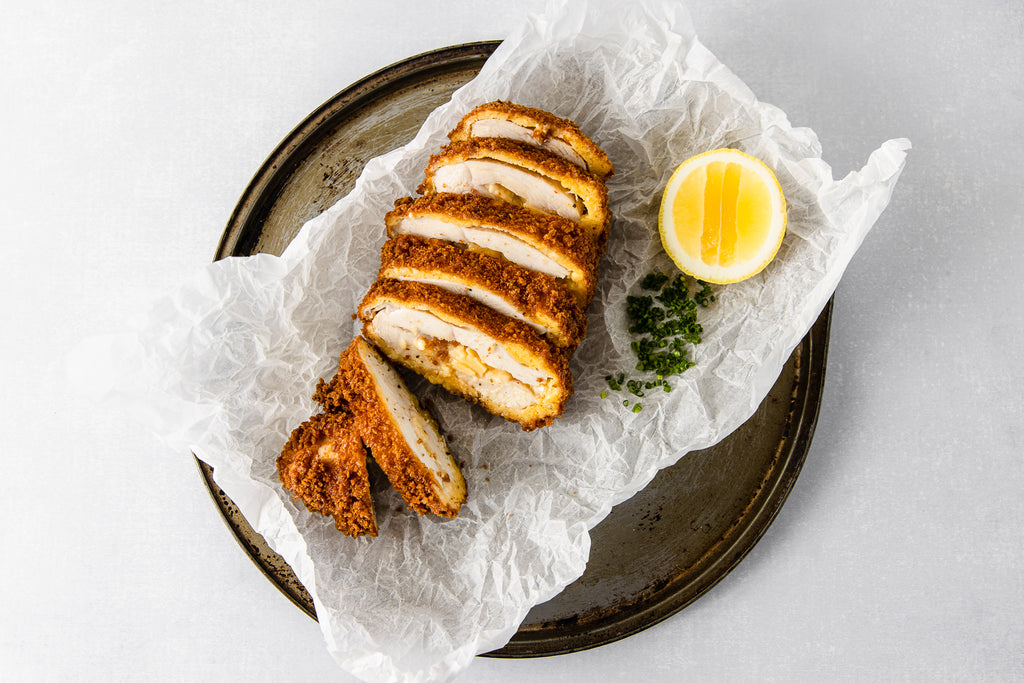 Featuring - Nichols chicken, Pyengana Dairy Vintage Cheddar, Meander Valley Dairy Herb and Garlic Butter
Recipe by Lilly Trewartha
Serves 4
Forever nostalgic and delicious, the humble kiev gets dressed up with vintage cheddar. Make it super easy and get someone else to do all the work, use Meander Valley Dairy herb and garlic butter. Serve as a great mid week meal with a simple side salad or a great mash potato and fresh vegetables. 
Ingredients
2 500g skinless, boneless Nichols chicken breast fillets
125g panko breadcrumbs
3 eggs, beaten until smooth
75g plain flour, seasoned with 1 tsp smoked paprika, salt and pepper 
Sunflower or vegetable oil, for frying
100g Pyengana Dairy Vintage Cheddar Cheese, grated
100g Meander Valley Dairy Herb and Garlic butter, softened and crumbled
Sea salt and black pepper
Fresh herbs such as chives or parsley, thinly sliced and lemon wedges to serve
Method
Preheat the oven to 180°C/160°C fan-forced

For the kiev filling, mix together butter and cheese in a bowl and set aside.

Using a sharp knife, make a deep cut along 1 side of the chicken breast to form a large pocket (do not cut all the way through). Fill with ½ of the cheese mix and repeat with the other breast. 

Prepare your crumbing section by placing breadcrumbs, whisked eggs and flour on 3 separate plates or large dishes, deep enough to hold the ingredients.

Taking care not to lose any of the filling, dip the stuffed chicken in the flour first, then into the eggs and then finally into the breadcrumbs. 

Dip the breaded chicken back into the eggs and breadcrumbs for a second coat, this will make them extra crisp and keep all the cheese inside.

Repeat steps 4 and 5 for the second chicken breast.

Take a large frying pan and heat over medium/high heat. Pour enough vegetable oil into a large frying pan to cover the base. Allow the oil to heat for 3-4 minutes.

Fry chicken kievs for 2 to 3 minutes each side or until golden all over.

 Place on a greased baking tray. Bake for 20 minutes or until cooked through. Check the chicken by putting a skewer into the middle, the juices should run clear or check the internal temperature with a thermometer, it should be 70 degrees.

When ready to serve, slice the kievs into thick slices across the shortest side of the kiev. 

Share over 4 dinner plates and garnish with fresh herbs and lemon, finish each plate with a sprinkle of salt and pepper.