November 29, 2022
Grilled steak with Pyengana St Columba Blue Cheese Sauce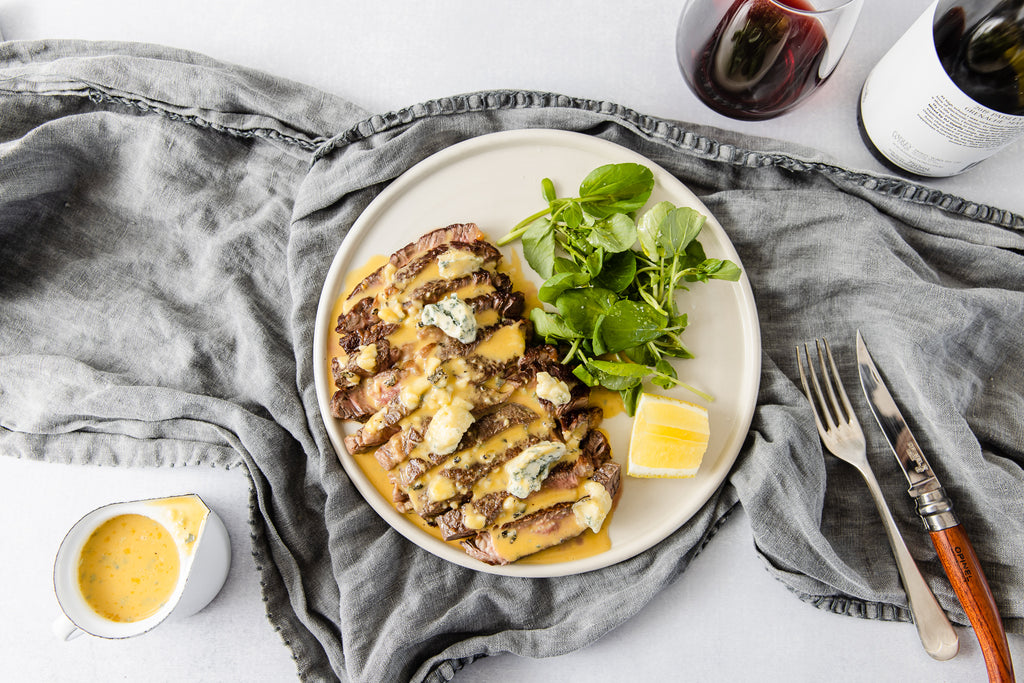 Featuring - Pyengana Dairy St Columba Blue Cheese, Meander Valley Dairy Salted Cultured Butter 
Recipe by Lilly Trewartha
Serves 2
This blue cheese sauce pairs beautifully with steak. Creamy and comforting whilst replicating more sophisticated flavours to dry aged steak without the waiting game, its a win win... 
Ingredients
1 tbsp vegetable oil
2 250g scotch fillet steak
50mL Meander Valley Dairy Pouring Cream
150g Pyengana Dairy St Columba blue cheese
1 clove garlic, grated
1 egg yolk
2 tsp Worcestershire sauce
Sea salt and black pepper
Watercress or other fresh leaves to serve
Method
About 30 minutes before you start cooking, take the steak from the fridge and cover each steak with a good pinch of salt, rubbing lightly into the surface. Leave uncovered on a plate on the bench and allow to come to room temperature.

Heat a heavy based pan or griddle plate, large enough for 2 steaks over high heat. Add the vegetable oil and allow it to heat for 2-3 minutes.

Fry the steaks over high heat for 3 min or until golden brown, flip and cook on the other side for a further 3 min, until golden brown. Depending on the thickness of your steak this will be about medium rare. Cook for less or more time depending on your liking.

Remove steak from the pan and allow it to rest on a plate for 5 minutes. 

While the steak is resting, put the Pyengana Dairy St Columba blue cheese and Meander Valley Dairy Pouring Cream in a small saucepan and heat until the cheese is melted, take off the heat and whisk in garlic, egg yolk and worcestershire, until lightly thickened. Adjust seasoning with salt and pepper if needed.

When ready to serve, place each steak on a clean plate, our warm blue cheese sauce over the steak and finish with watercress or leaves. Finish with a bit of cracked black pepper.