November 29, 2022
Leek and Pyengana Dairy Vintage Cheddar Toastie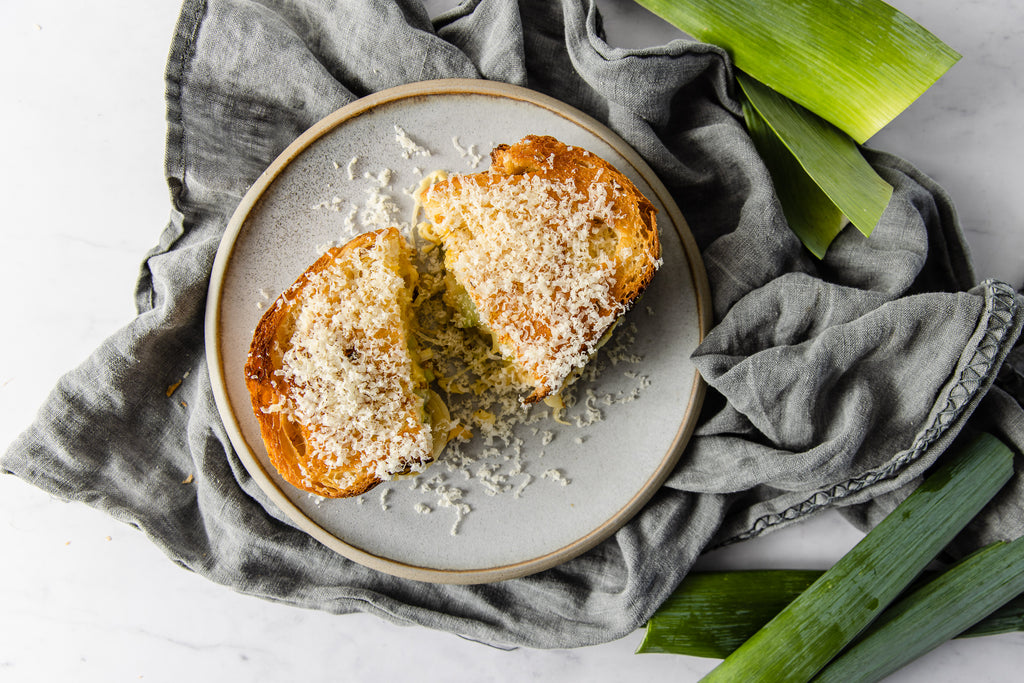 Featuring - Betta milk, Pyengana Dairy Vintage cheddar 
Recipe by Lilly Trewartha
Serves 4
Delicious sweet leeks paired with the creamy Pyengana cheddar are highlighted with a sharp kick from dijon mustard and pickled onions to make the perfect toasted sandwich. 
Ingredients
50g Salted Cultured Butter, for melting
2 leeks, thinly sliced and washed well
8 Blue Ribbon pickled onions, thinly sliced 
8 thick cut slices sourdough 
400g Pyengana Dairy Vintage Cheddar, cut into very thin slices
100g butter, room temperature
Dijon Mustard, to taste
Salt and pepper
Method
Preheat the oven to 100 degrees to keep sandwiches warm.

Melt 50g of butter in a frying pan over medium heat. Add leeks and cook for 5 min, or until lightly golden and soft. Turn off and leave in the pan while you prepare the sandwiches.

To assemble the sandwiches, lay out the 8 slices of bread and spread a nice, even layer of butter across all pieces. Set 4 slices aside.

Flip the remaining 4 slices of bread over so you have an unbuttered side up. 

Cover the bread with a nice, even layer of dijon mustard. You can go a little or a lot here, depending on your taste.

Layer about one quarter of the leeks over the dijon and top with a quarter of the cheese and pickled onions. Make sure it's even across the bread.

Take one of the buttered slices of bread and put it on top of the filling with the buttered side up. Both outsides of the sandwich should be buttered.

Repeat for the following 3 sandwiches until all ingredients are used.

Heat a medium size frying pan on low heat and one or two sandwiches, depending on the size of your pan.

Allow it to crisp and go golden brown. This will take about 5 min, flip and cook on the other side until golden and cheese is melted. 

Do not be tempted to turn up the heat and rush the cooking, as the outside will over cook before the cheese has time to melt.

Once the toastie is golden brown on both sides and the cheese has melted, place the toastie on a baking tray in the oven to keep warm while you finish the others. Otherwise serve immediately.

When ready to serve, cut each toastie in half and serve immediately.