February 14, 2023
Stuffed Green Olives with Cheddar and Wasabi Cream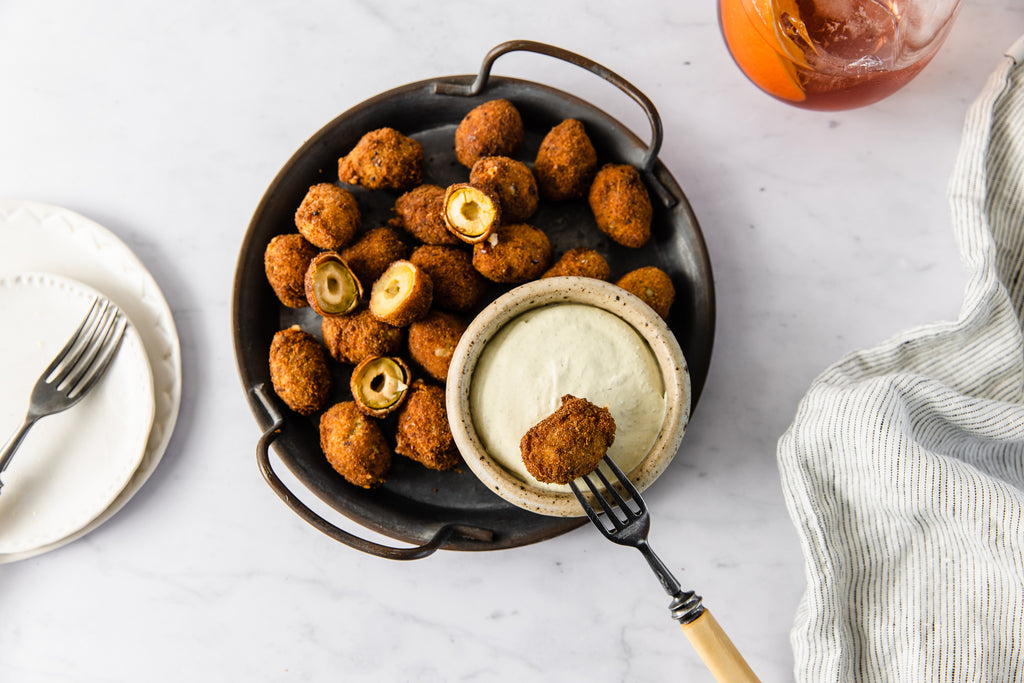 Featuring - Betta milk, Pyengana vintage cheddar, Shima wasabi, Meander Valley creme fraiche
Recipe by Lilly Trewartha
Serves 2-4 as a snack
Crispy, salty and creamy, these fried olives make a great snack for entertaining. Fresh wasabi cream works beautifully to compliment these tasty bites.
Ingredients
Olives
100g Pyengana Dairy traditional cheddar cheese, cut to fit into olives
20 large green olives, pitted
3 eggs, beaten until smooth
100g plain flour
100g  breadcrumbs
500ml sunflower oil, for deep-frying
Wasabi cream
200mL Meander Valley Dairy Crème Fraîche
40g Shima Wasabi fresh wasabi paste
1 lemon, juiced
Sea salt and pepper
Method
Fill a heavy deep frying pan with 500ml of sunflower oil and heat the oil to 180'C.

Make the wasabi cream by mixing together crème fraîche, lemon and wasabi paste in a small bowl, adjust seasoning with salt and pepper. Keep in mind the olives are salty and the cream should be a refreshing contrast. Set aside.

For the olives, stuff each olive with a small strip of cheese. 

To prepare for crumbing the olives, put the flour, beaten eggs and breadcrumbs into 3 separate bowls on your work surface.

Dip the stuffed olives in the flour first, then into the eggs and then finally into the breadcrumbs. Dip the breaded olives back into the eggs and breadcrumbs for a second coat, this will make them extra crisp and keep all the cheese inside. 

Make sure the oil is the right temperature by testing 1 olive. The olive should take about 1 minute to be a nice golden brown colour. If it takes less or more time, adjust the temperature of the oil before cooking the rest of the olives.

Fry in small batches so they don't touch while frying. Carefully drop each olive into the oil and fry for 1 minute, turning them to brown evenly on all sides. 

Once olives are nice and golden, remove from the pan and place on a plate lined with a paper towel to drain off excess oil.